My sisters pup Honee, we think she's a pit irish setter mix not sure we were told pit lab when we picked her up but cant find any lab in her.  she's Bel and Jas's playtime buddy we try to give them at least an hour every night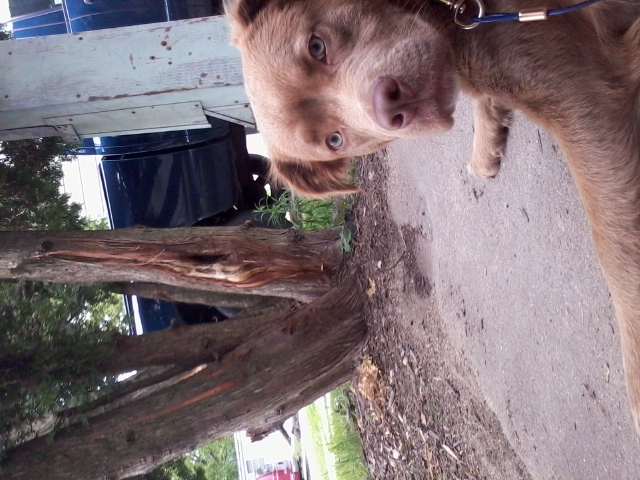 My aunt and grandmothers dog Sable.  All three of our dogs have met her but they are kept on leash and away from Sable if we all visit because Sable is now blind from diabetes.  So Bella Jasper and Honee know her but they dont play at all.  Sable likes to come sniff them though.  Bel is the best with her and seems to understand shes older and cant play with them she'll go sit by Sable and just calmly lay with her.  Jasper wants to play and jump on her so he's not really allowed by her, and Honee is as my sister calls her a crazy beast so we keep her away.  And Honee seems to be a little aggressive with other females so we dont risk anything with sable.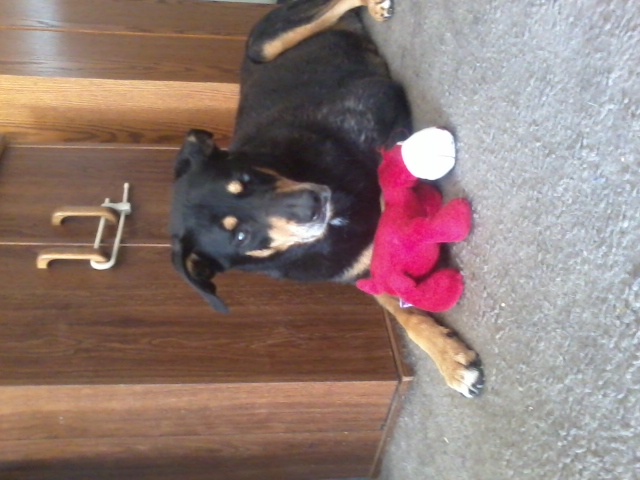 Now for the animals we live with, well sort of
This is my moms cat ying we got him for her birthday back in december.  We were surprised to see his pic on craiglist he has almost the exact same markings as her last cat.  Mr. Oliver James Whiskers Junior was my moms old cat that had to be left behind when we moved, he saw the rental truck and took off we checked for days for him to come back but never did.  The old neighbors caught him and then let him go because we couldnt get thier right away even though we moved about 30 minutes away and no one could get out til after work.  So when I saw ying we had to get him, we actually got his sister sister also but had to rehome her, she was to much for my mom brother and me and kept clawing us any time we walked down the hall and wouldnt adjust to the dogs.  so for a while we had ying and yang but we are down to ying now.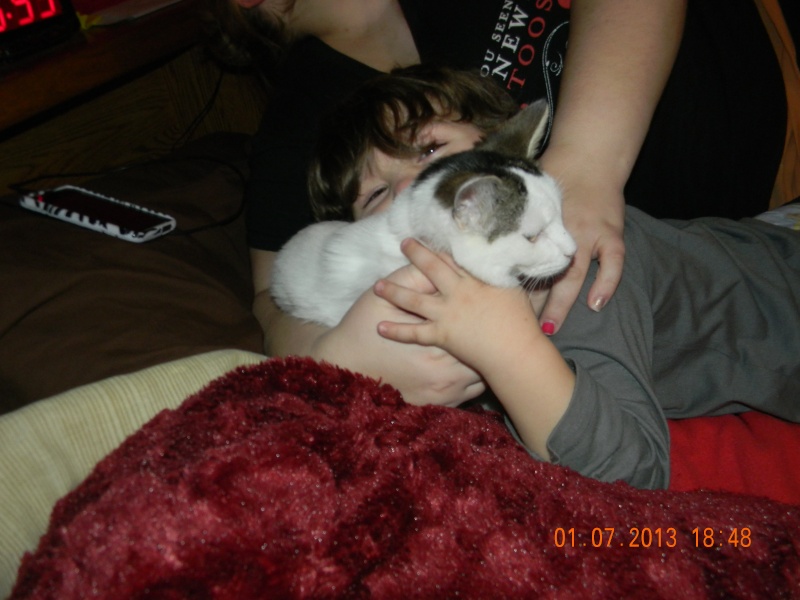 I'm really not sure whose dog this is as weird as it sounds.  Its supposed to be my brothers because he threw a bitch fit when I tried rehoming him because my mom cant care for him any more having really bad neck back and knee problems lately requiring surgery and we were having issues with fred.  So I guess he's my brothers but of course my mother is still putting him out and feeding him because my brother doesn't bother to come home.  Long story short with this dog they had him since a pup and  never bothered to really take care of him.  My sister used to try walking him and would take him to her friends but since she had fred and moved out no one really bothers with him.  I live with my mother for now but I refuse to have anything to do with him, we dont have a good history and I wont tolerate his aggression and being growled and snarled at constantly and he has bitten me more then once so as mean as it sounds, and my grandmother has told me I'm a bitch multiple times over it, I'm done with him.  He has jealousy issues over my nephew and has growled at him over literally nothing and my last stray was when he charged fred for walking across the living and tried to bite him multiple times, when he was stopped from biting fred he went after me and my sister.  His attitude has supposedly gotten better now that they finally got him on a little better food but I really dont care anymore I'm to that point with him, I wont let my nephew near him and my mother gets angery because I tell fred he isn't allowed around that dog.  I just dont find him trust worthy at all his issues were never worked on and will not be so he kinda lives a sad life in my brothers room alone.  He got along with Bella Jasper at first but that quickly ended when Jasper wouldn't let him mount either Bella or Honee so they dont see him even though they live in the same house.  After a few close calls and fights I have had to break up I wont try again, which is another thing blamed on me I guess I dont try hard enough to like him and I'm mean to him even though when I did try letting him interact it always ended up with me having to drag him away as he is trying to bite me.  Sorry it's turning out ranty just unsolved issues there that piss me off.