Bandit My lovely escape artist. (I know huskies are known for this)
We have large custom made run linked up between two trees in the back yard- The run is not tight on him or attached to the trees (we have learned)
We have tried  
1. Collars,  2. different types of D-ring harness, 3 .Leather ones, and the most recent victim - 4. a sports harness with handle.
And my beautiful boy escapes! They last about 4-6 months some not even that long! but he always figures out how to either A) Gets the harness loose and chews the strap in front and escapes. B) Gets them loose and simply "backs out of it" C) Runs back and fourth enough to strain the straps and Snaps them. Once he figures out how to chew out of harness we will do the exact same thing to it if we replace it! I cannot believe it.
1. Metal bucket or plastic snap
(the strain from use on buckle tends to loosen the hole and it slips off his head and/or breaks the plastic snap -lasts about 3 months)
2. https://www.walmart.com/ip/Pet-Champion-Hunter-Orange-Step-In-Harness-Large/38467420
We have had good luck with these ones they just do not last more that 6 months from wear and tear
 and
https://www.walmart.com/ip/Pet-Champion-Mossy-Oak-Step-In-Harness-Large/38467423?action=product_interest&action_type=title&beacon_version=1.0.2&bucket_id=irsbucketdefault&client_guid=1acc9bfd-51e9-4744-3bb3-06ba19f97c2e&config_id=2&customer_id_enc&findingMethod=p13n&guid=1acc9bfd-51e9-4744-3bb3-06ba19f97c2e&item_id=38467423&parent_anchor_item_id=50912572&parent_item_id=50912572&placement_id=irs-2-m3&reporter=recommendations&source=new_site&strategy=PWVUB&visitor_id=aMIi6MXCD3sGKb3ASXAUEc
the mossy oak one last for about 4 months- then once he broke we replaced it the replacement lasted a week.
3.just a simple leather harness -
lasted about 4 days.
4. https://www.tractorsupply.com/tsc/product/petsafe-easysport-harness?cm_vc=-10005 -
this one lasted about 3 weeks and he snapped it when another husky ran through our yard
He is on the Run during the day while we are work (we go home on lunch and check to make sure he is still there) this is his form of exercise while we aren't home.(opposed to being kenneled) And while it always works for him he keeps escaping. When we get home, he comes in happy, wore out from playing, and un-hurt, and his harness/collar comes off. And it set back to the form fitting position from where he has loosened it during the day. then next day we put is back on him and he goes back outside.We have a slip on harness for walks, that works great on rainy days when we don't put him outside and we just go out for walks- but it is no suitable for him being on his run.
I am scared to try a prong collar because he will has a chance of injuring himself. We live out in the country- and wild life(deer, cats, other dogs) around us tends to tease him and he will run full sprint and stop.But some times he won't stop in time and his attachment will stop him causing a "yank" he stand up and continue to bark at the critter. He has learned for the most part to stop so he doesn't injure himself. He runs back and fourth all day and slide in the dirt, plays with is tennis balls, chews up sticks or jumps in the baby pool on hot days.
With all that being said, Anyone suggest a harness or something to save me from having to buy a new harness/collar ever few months?
Deer teasing my boy- wearing the mossy oak harness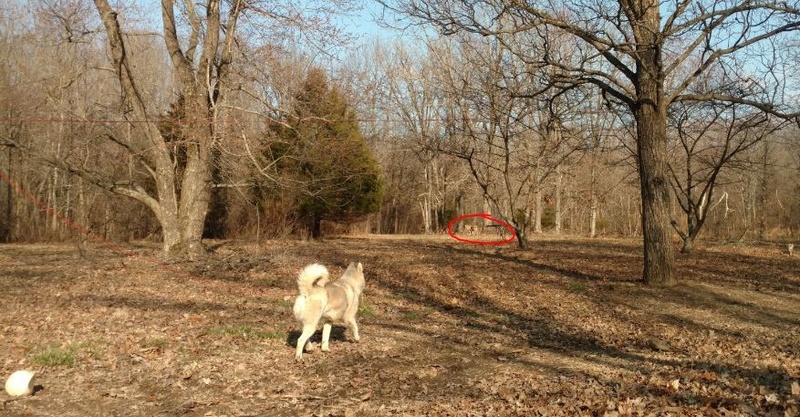 Happy as can be with one of his collars on