So this past Friday Jack had surgery to remove 10 masses and get his teeth cleaned. he is 10 and has yet to have his teeth cleaned and i think its good to do it at least once to make sure everything looks ok and no busted teeth. his were good. i also hate putting dogs under as they get older so now seemed to be a good time on the teeth.
since we were doing that we took care of all his lumps from his mouth down to his tail, 10 total

and of course i have found another one after the fact....
so his lumps and bumps, some were more like hard round extruding lumps that were a dark color, some were more like cauliflower that had started bleeding and crusting over, one was a mole and the other 3 were internal lumps we felt under the skin, that when tested did not seem bad but the location made them bad if there were to grow so they were going to. luckily once removed they were determined to be fatty masses and no need for testing. poor guy cried into the night not settling down till 5am on sat, we were a tired mess, Finn seems to know something is not right, i dont know maybe its the GIANT cone

but he is leaving jack alone for now.
After what we went through with Sierra i am glad he got a good report back, now to keep him calm and the cone on till the stitches come out next tue.
some pics for the hell of it. clearly not every one is pictured, the worst one is near his man parts

on our way home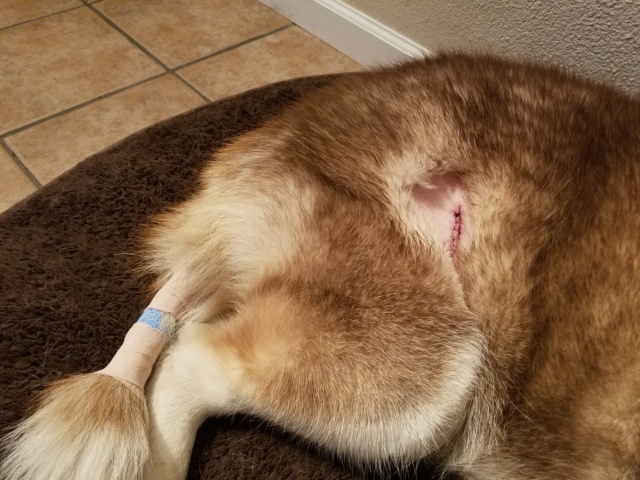 _________________