Forum Rules
1. Here we prefer clarity to agreement. Obviously not everyone is going to agree on a topic; here we prefer to talk out our differences in a respectful manner to ensure mutual understanding and respect.
2. Read the Stickies and Announcements. Each sub-forum may have specific rules which trump the Forum Rules in cases where there may be conflicting information. Read the rules of each board before you post so that you are clear on the expectations of the staff.
3. Respect ALL Staff and Admins. These people volunteer of their time and MUST be respected as well as their word adhered to. They are responsible for maintaining a free, open, clear and organized forum. Anyone found to be openly undermining any official ruling by a staff member will be warned.
4. Signatures: One picture only and no links. Images: To keep the forum looking neat and tidy, we ask that members insert just one picture only in their signatures. The picture should be no more than 200x500 pixels and should be of an appropriate subject, for example, your dogs and their names. Should you need assistance creating an appropriate signature, please PM an Admin and we would be happy to help! This is to ensure that signatures remain a welcome addition to our forum instead of a cumbersome distraction. Links: Hyperlinks in signatures--unless to a personal blog or photo stream of your dogs (like Flckr or Piscasa, for example)--are strictly prohibited. Please PM a staff member with any questions or concerns regarding this rule.
Rescue Spotlight
Our July Rescue is:

Hairy Houdini Husky Rescue!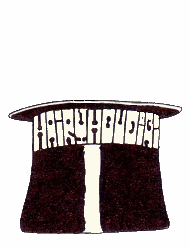 Author
Message
arooroomom
Husky Collector




Join date

: 2009-12-13


Location

: South Fl



Subject: Mickey, my oldest 12/14 Mon Dec 14, 2009 11:32 pm

---

Mickey is my black and tan male. He just turned 2 on December 8th

We got Mickey from Animal Control here in Broward County. He was originally listed as a GSD/Chow X. After having him for about a month, we knew there was no way in heck that was possible. Just a few months ago i had all the dogs taken to the clinic to get chips done with them. Mickey turned up already having one. Long story short... he was from a Siberian Husky breeder in Finland. We had already figured as much (him being a Husky) but it was nice to know for certain. Mickey started my Husky love. He will always be my boy. I don't have a favorite... but Mickey is my other half (in dog form at least!)

This is younger Mickey:

Swimming in KIddie Pools

Hanging with Luna

Being a ham for the camera

His daddy and our neighbor after having to literally drag him out of the lake

Mickey and his "half sister" He towers over her now.

More recent:

SUCH a poser. This dog was MADE for the camera. ugh :rolls eyes: Such a ham!

BONFIRE HUSKIES
Teenager





Join date

: 2009-12-04


Location

: Graham NC



Subject: Re: Mickey, my oldest 12/14 Mon Dec 14, 2009 11:38 pm

---

Huskyluv
Resident Nutritional Bookworm




Join date

: 2009-06-23


Location

: Huntsville, AL



Subject: Re: Mickey, my oldest 12/14 Tue Dec 15, 2009 4:46 pm

---

Beautiful pics!

_________________

Koda
Ms. Amicable




Join date

: 2009-05-20


Location

: Glenville, NY



Subject: Re: Mickey, my oldest 12/14 Tue Dec 15, 2009 4:49 pm

---

He's so awesomely gorgeous... I really want a black and tan now!

_________________

www.itsahuskything.com
It's a husky thing... you wouldn't understand.

amykmac
Adult





Join date

: 2009-11-06


Location

: Niles, MI



Subject: Re: Mickey, my oldest 12/14 Tue Dec 15, 2009 10:46 pm

---

Oh, yeah. He's striking! Seems so regal in the recent pics. Ok, maybe if I happen to run across a tan & black husky, I'd reconsider having four. Now, I just have to convince Tommy!!!!

Sponsored content






Subject: Re: Mickey, my oldest 12/14

---
Latest topics
» Hiking with Dogs: Mt. Townsend, Olympic Peninsula, WA


by amymeme Today at 10:42 am

» Anybody here gotten there husky to bark on command?


by Huskyluv Today at 8:57 am

» Teeny Tiny New Husky Pup...!?


by aljones Yesterday at 9:37 pm

» Blazze Becomes Z'ev: Follow His Journey from Death Row to Member of the Family


by amymeme Yesterday at 5:56 pm

» What procedure to use to accelerate blowing the coat?


by lexiej Yesterday at 1:03 pm

» Mishka's (Kohdi's lil "sister") scrapbook


by Artic_Wind Thu Aug 17, 2017 9:42 pm

» Kohdi's scrapbook


by Artic_Wind Thu Aug 17, 2017 9:32 pm

» How do you keep your car clean?


by moray1976 Thu Aug 17, 2017 12:55 pm

» "Not so" patiently waiting


by TwisterII Thu Aug 17, 2017 12:37 pm

» Recall Information


by eander83 Thu Aug 17, 2017 7:53 am

» Redness near mouth - Causes? Remedies?


by Mbrads85 Thu Aug 17, 2017 5:45 am

» 52 Weeks of Xayah - Up to week 16


by eddycaaa Wed Aug 16, 2017 10:39 pm

» Isabella vs. pure white


by SandieMoe Wed Aug 16, 2017 5:41 am

» Do you have a favorite picture of your furbaby?


by Mark Grubbs Wed Aug 16, 2017 2:13 am

» Husky do play hide and seek


by KingOdin Wed Aug 16, 2017 12:58 am

» Cloud, Yuki, Link, Lyon, Ame, and Yona's Scrapbook - Updated 08.13.17 - Fosters and New Dog


by Artic_Wind Wed Aug 16, 2017 12:15 am

» Please we need help!!!!


by amymeme Tue Aug 15, 2017 8:54 pm

» Hello from a very excited soon to be husky owner


by BaileyAnn Tue Aug 15, 2017 6:58 pm

» 52 Weeks of Nameless Pup


by BaileyAnn Tue Aug 15, 2017 6:56 pm

» Ame's Lure Coursing - Kelim's Rain at Midnight at Yukikaze CAA BCAT


by amymeme Tue Aug 15, 2017 11:42 am