This is a long-overdue post in memory of our first husky, Sandy. Sandy was supposed to be a "black lab mix - free to a good home". One cold, damp Sunday two naive college students drove out into the country following a newspaper ad (this is before Craigslist and really before the internet as we know it, so "newspaper"...Google it if you are too young to remember

) to get a cute puppy. When we get there, the man had a writhing mass of black fur balls in a muddy pen in his back yard to which he was throwing kibble....and one little husky, covered in mud and cowering in the back corner, peeking at us through all that mud with her ice blue eyes! At the time we did not even know that huskies came in any color other than black and white, so I thought that if we took that little muddy thing home and washed of the good ole red Virginia clay, we would get a black and white husky! I don't think I looked twice at the annoying little lab puppies. When we inquired about her, the man said (in the best country accent you can dream up), "That 'un there is the last o' my brothur's litter o' huskies. I'll be a'needing 50 bucks fer her." So we handed over the money and left with Sandy! That was January 1990 (we were told she was born in November 1989).
On the way home, we stopped by Winn Dixie for food and bowls, a collar and leash. I doubt if there were ever two people so ill-prepared for a dog in their lives! When we realized the red was not mud, we doubted that we had a husky, but decided to check out some husky books anyway. Well, whaddaya know! Huskies can be red! We never knew if Sandy was a purebred husky or not, but she sure did act like one and look like one and it really didn't matter, we loved her anyway!
Sandy began her life with us in an apartment and moved with us through 3 houses. She patiently put up with the addition of two children. We enjoyed having her as one of our family for 17 years before we had to make one of the hardest decisions I have ever made to put her humanely to sleep. Sandy suffered with dementia for the last few years of her life. Her life with us was never the same during those years, but she was comfortable and seemed to enjoy her life. Eventually the ailments of the elderly caught up with her and she could no longer traverse the stairs, she could not hear nor see very well, she had also begun to forgot where to go to the bathroom.
She was my girl and one of the best dogs EVER!
Please ignore the '80's hair! This is baby Sandy!
Pretty girl!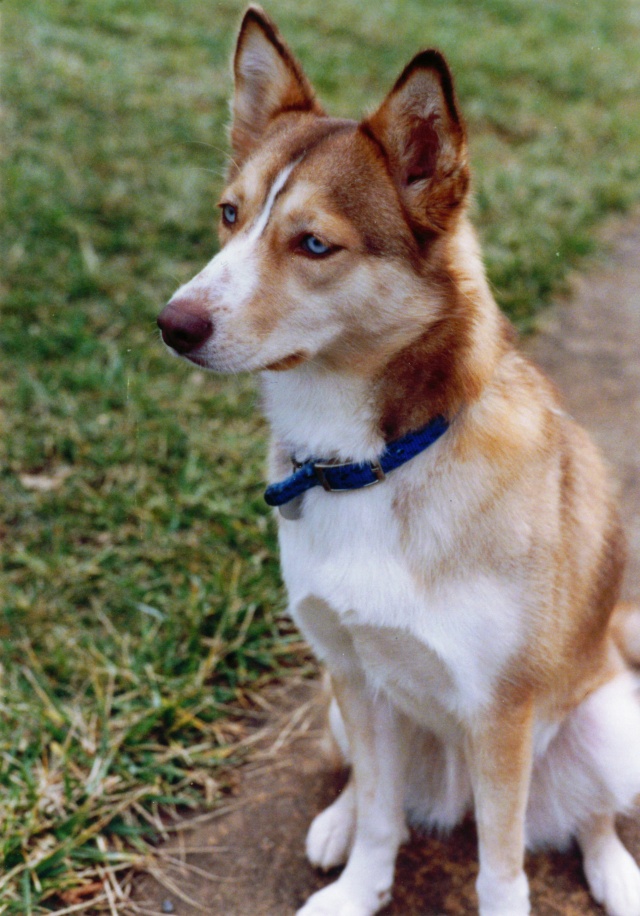 Life-changing child #2: (@2001) I just realized that I did not scan any of her and child #1...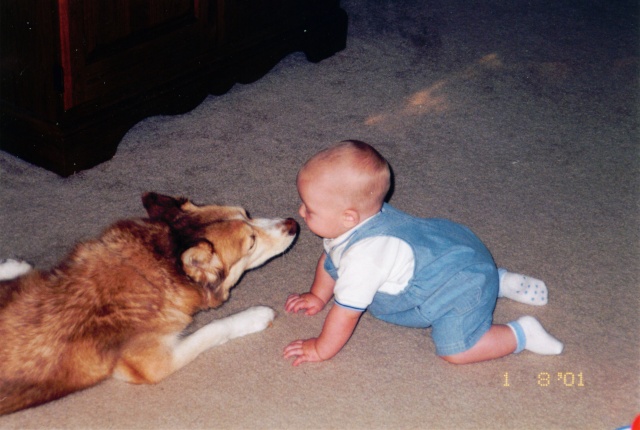 Life changing child #2...again: (@2002)
...and every husky album MUST include a pic that looks like this!