Give an Older Dog a Second Chance at Life…
So, I have been thinking about my daughter's dog Stryder lately. We had to euthanize him due to cancer a few weeks ago. He was the best dog. And one that had been passed up for weeks in a shelter and then at a rescue. To his former owners and society he was a "throw-away dog." At first glance he was not much to look at, he was extremely underweight and he had bad fly strike on both ears.  He was collar shy and would try to bite anyone who tried to hold him by his collar. And to complicate matters, he was old. We knew he was an older dog – probably older than 8 but that didn't matter to us. We fell in love with him and wanted to give him a great retirement home. Stryder taught my daughter so much about unconditional love, forgiveness, trust, patience and responsibility. We never envisioned that we would only have him in our lives for two short years. We had to say goodbye to him sooner than we thought. Even though his story ended way too soon, we would go on this journey for Stryder all over again without question!
We adopted Stryder, a Norwegian Elkhound/Siberian Husky mix, through Northern Lights Sled Dog Rescue in July of 2008 after her 14 year old German Shepherd/Siberian Husky mix Rolf had to be put down due to laryngeal paralysis. Through Stryder, my daughter found healing and love again. And Stryder got a second chance at life.
He was found as a stray in Evansville, Indiana and was due to be euthanized when the adoption coordinator found him by chance. He was sent to a volunteer boarding facility in Anderson, Indiana but 6 weeks went by and no one was interested in him. Then we found him and made the trip to visit him. We decided to adopt him but had to wait a week until our adoption contract was approved. The day we were to make the trip to pick him up we learned that he had tested positive for heartworm. We adopted him anyway and had him treated for heartworms and kept him on crate rest for 6 weeks while he recovered. He was a very timid, shy and loner dog when we got him. We have since learned (through diagnostic xrays to detect his cancer) that at one point in his life he had been shot by a shotgun and had a bullet lodged in his pelvis all this time! He had such a hard-knock life before we found him. But through Caroline's love he became a loving, loyal and trusted friend.
Over the past year my daughter and Stryder took many obedience and agility classes. In the fall of 2009, Stryder passed and received his AKC-CGC title. They were training for their first AKC agility competition this October with FWOTC dog club. They also trained with the Allen County 4H Dog Club and were able to compete in obedience and showmanship at the Allen County 4H Fair. Not bad for a "throw-away senior dog"!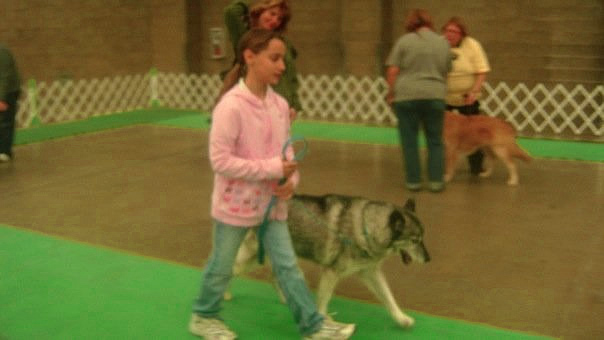 Unfortunately Stryder very quickly became very ill. We discovered that he had apocrine gland anal sac adenocarcinoma that had spread throughout his body and organs very rapidly and silently. We decided to humanely euthanize him to spare him any more suffering.
I recently came across this poem about adopting "senior" dogs and I wanted to pass it along to everyone to encourage people to give the older dogs a chance at a second life: 
One By One
One by one, they pass by my cage,
Too old, too worn, too broken, no way.
Way past his time, he can't run and play.
Then they shake their heads slowly and go on their way.
A little old man, arthritic and sore,
It seems I am not wanted anymore.
I once had a home, I once had a bed,
A place that was warm, and where I was fed.
Now my muzzle is grey, and my eyes slowly fail.
Who wants a dog so old and so frail?
My family decided I didn't belong,
I got in their way, my attitude was wrong.
Whatever excuse they made in their head,
Can't justify how they left me for dead.
Now I sit in this cage, where day after day,
The younger dogs get adopted away.
When I had almost come to the end of my rope,
You saw my face, and I finally had hope.
You saw thru the grey, and the legs bent with age,
And felt I still had life beyond this cage.
You took me home, gave me food and a bed,
And shared your own pillow with my poor tired head.
We snuggle and play, and you talk to me low,
You love me so dearly, you want me to know.
I may have lived most of my life with another,
But you outshine them with a love so much stronger.
And I promise to return all the love I can give,
To you, my dear person, as long as I live.
I may be with you for a week, or for years,
We will share many smiles, you will no doubt shed tears.
And when the time comes that God deems I must leave,
I know you will cry, and your heart, it will grieve.
And when I arrive at the Bridge, all brand new,
My thoughts and my heart will still be with you.
And I will brag to all who will hear,
Of the person who made my last days so dear.
Leslie Whalen
written in honor of her dog Tray and all senior dogs who await a new home and deserve a second chance at life and happiness.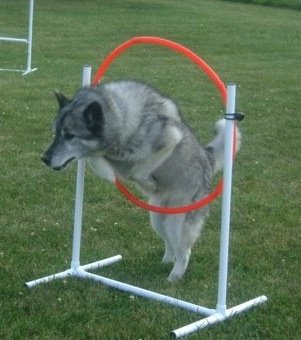 I always felt that Stryder was so thankful to be in our home and to have my daughter's love and attention. I bet he thought to himself often "how did I get so lucky to be with this new family that just adores me?". I know that even though he had such a hard-knock life before he found us-we packed a lifetime of love and great memories in the 2 short years that we were blessed to have him! And we would do it all over again in a heartbeat! The unconditional love, trust, forgiveness and patience that Stryder showed us was worth all of the pain we have experienced since his death. Adopt an older dog....and give the gift of a second chance!
We love and miss you Stryder!!- Ellie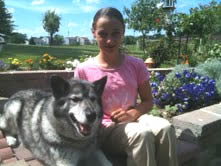 Caroline & Stryder