Like I said, this is my first round of classes with them, so let me see if I can answer all your questions/concerns without muddying the waters Husky Style.
I am in 3 classes.
Bronze - Targeting for Body Awareness ($65)
Bronze - Empowerment ($65)
Silver - Bogeyman ($130)
Total: $280
So technically, if you stay bronze (most people do), you get more bang for your buck. And boy, I do mean BANG.
Once you are registered and paid for a course, there is a closed Alumni group you can be added to on Facebook. Tons of discussion, questions, course advising, talk in general. Extremely active and supportive group!
On top of that, most classes have Facebook "Lurker" groups (closed and requiring screenshots of your enrollment to gain access). In these groups, the instructor is NOT present, so it is peer review and "safe" for Bronze interaction. This means as a Bronze I can post my videos and ask questions. The only rule here is that you can't ask questions that getting the answer to would "degrade" silver or gold status - IE, I can't abuse the Lurker group to get silver/gold style answers (or get them to post your questions on the class forum for answers from the instructor). But if you post videos, people from the class are amazing, supportive, and quick to peer-review - and for me, that has simply been enough when coupled with the actual lessons.
Most importantly, once you are added to these groups, you are never removed. Some people posting on my videos / questions / concerns took the course a year ago or more and have even more time to refine their skills than my classmates, so I really trust the information I glean from these FB groups alone.
Now for the lessons on the actual Fenzi site.
Bronze = all material + read discussion/homework forums + Facebook
Silver = all material + access to instructor for "generic" questions/discussion + read homework forums + Facebook
Gold = all material + access to instructor for "generic" questions/discussion + being able to submit homework for correction/1-on-1 instruction + Facebook
The only "limit" on Gold-Instructor interaction is that a video must be submitted to demonstrate what you are talking about and you cannot submit another video until the instructor has responded to the last video poste (to keep the threads clean and easy to read).
Once you are enrolled in a class, you have access to that classes' material for a year, and every year following that you take a course. So if I took just 1 course a year, I would retain all courses material from every class taken for every year until I miss a year.
They highly encourage you to save out course material and discussion threads as any level. Youtube is used for videos and requires a public channel, so the videos are most likely going to be there years down the road.
So once you are enrolled in a course at the lowest level, you have access to that material to go back to it as many times as needed.
And finally, my analysis on material. This is the material I have covered in 2.5 weeks from 3 classes: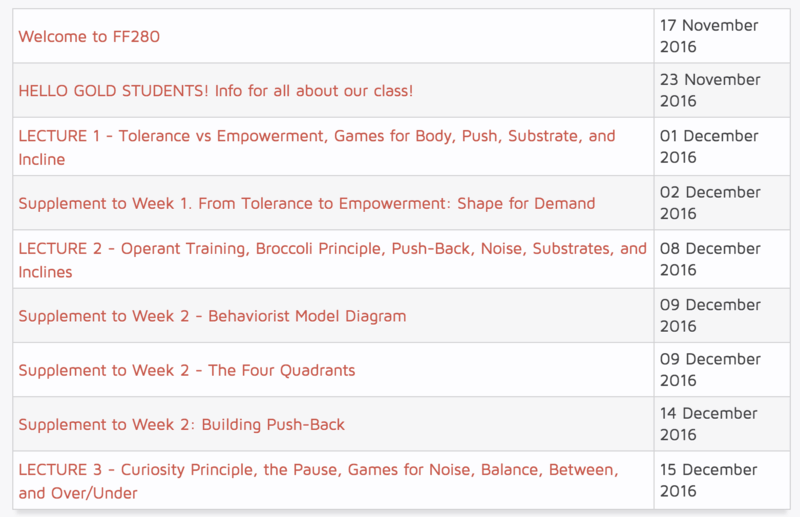 And there are still 3-4 weeks left.
Some of the coures are "Front loaded" meaning it's all information right up front, and then several weeks of straight application. Others are more evenly spread out. I got one class from each of that spectrum and one right in the middle LOL.
The information, at least for my dog, for the courses I chose, has been phenomenal. Ember has changed so much in just 2 weeks, and I'm already able to understand much more about her. On the sport side, I've been seeing people's post on how to fix broken sport cues or how to even start in a sport. Professional to complete noobs like me alike. It's a large community and one of the best ones I've ever been a part of!