Hello everyone,
Life has been going on, work a lot, but my bound with my Flash has never been so tight and strong. For the one who remember me thats good, for the one who doesnt remember me, i purchased a husky in a place that i suspected to threat him bad, realizing it the day after, when my husky looks so terrorized when he was baby. I came here for advice and i was worried to not have a best buddy, but a dog that would be for life scared.
C.F :
http://www.itsahuskything.com/t17265-my-first-husky-some-concern
You guys gave me advice, And i came back for some news 3 week later :
C.F :
http://www.itsahuskything.com/t17303-evolution-of-flash-since-i-got-him-3-weeks-video
Now, i'm back 2 Year after, nearly.
About flash, what can i say.. This dog is amazing, i dreamed to have my own dog, and couldn't have a better one than an husky. He's so smart, so intelligent, protectiv, so funny. He's defenitly a part of me. I'm security guard/Bouncer, and i'm the first one who actually trained his husky so good that he can work with him(In my country its 99% of german shepard for security work, due to their protectiv and obey sense). So yes, i can even stay more with him now that he got his certification, when i'm not in club working, and i'm doing some survey works or i'm security guard in working place, i can take him with me, i'll show you some pic. (I work in club the Friday, Saturday & Sunday, and the week if i'm not in event like concert, VIP security & escort, We get our monthly hours in different place, depending on current society's contract. So some week i do 40hours of parking lot at night / wherever i can take him, and some week its only a night )
About his traumatize, all disappeared. Almost. With me, he's pretty much a normal dog, but with others, he's still scared, not running backward when u get 15meter close has he used to but when someone try to touch him, he walk/run to me.
About his health, All good! I swear i would give him the best, some month have been hard moneywise but he always had the best threat, the best food, the best toy. Ofc my work is physical, so when i took him for 12 hours shift with me, he got his sport too

(Ofc, he got some break in room specific for him, with water and food, unfortunaly me, i havent got break haha)
About his behaviour when he's alone, he's not breaking anything anymore, he's clean and wait me to get home to poop and pee, he's not yelling/barking, he just rest peacefully.
I cannot explain, with the right words my feeling for flash and the bound we have. You all own a husky, you know how specific the relation is. He came into my life at a period were life and time were rude for me, I'm much alone, relationship doesnt last with such a work too many hours every month, no family anymore, i had no real reason to live for. He became one. I was a yolo dude, either at work, either in private life, wich cost me multiple car, injuries, trouble. But since we became closer and closer, i finally got that light that every man got in their life once, that is lightning when i'm close to do a mistake. Like " Alex, keep calm, Alex think about flash, what he gonna do without you. " I'm not an emotionnal dude, but just by thinking of loosing him, i get my eyes watered. He's my best buddy for life, thats sure!
Pic and video :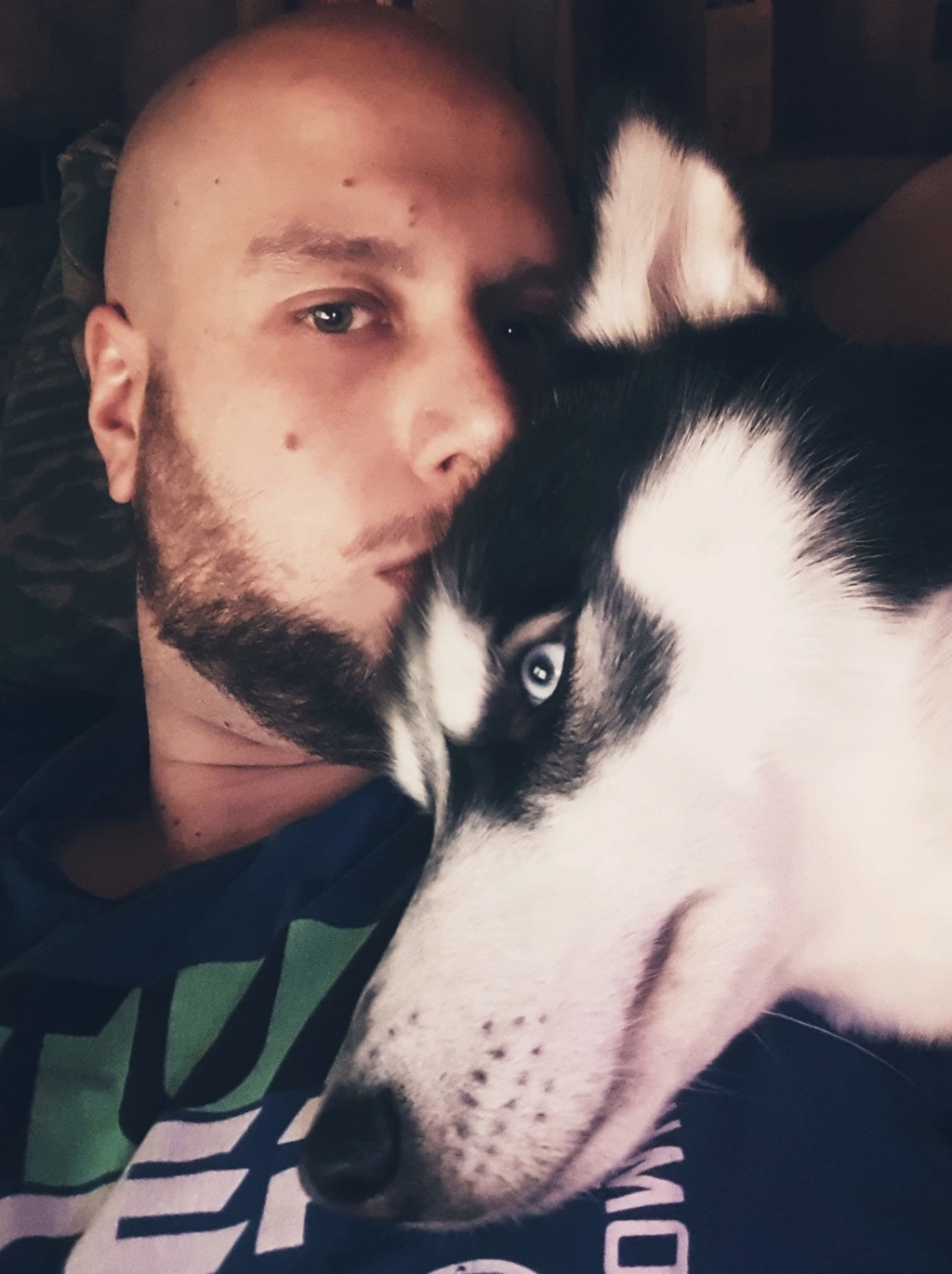 So to end this topic, thank you all for helping me trough his hard times. You were right, the love we share allowed us to reach some stuff that normal dog doesnt even realize.. And i'm also creating this topic for people who will struggle with their dog as i did, ending up by purchasing a husky in the wrong place. But with love, and time, he became totally normal!
Much Love, Flash & Alex