Seeing that I'm highly allergic to cats, Shylo has never met one so she was blissfully unaware that they even exist. Till tonight that is...
Like usual, I let the dogs out into the back yard for their potty break after they finished their dinner. Both go their separate way to do their business while I stand behind the security gate, keeping an eye. That's when I see the cat's eyes gleaming in the far right corner of the yard (its too dark in the corners too see the actual cat). It seems not too be bothered by the dog sniffing closer and closer in its direction.
Luckily for the cat, its Nemo moving in that direction and because his eyesight is bad, he doesn't notice the cat. When I see him catching the cat's sent in the air, I call him and he comes running in without a problem.
But of course, Shylo just HAS too go pee (a second time) where ever Nemo pees... I call her name when I see her heading in that direction but by that time she already caught the cat's sent and is standing there, frozen to the spot, staring at it. Just then the backyard light goes out (bad connection I'm guessing because it does this all the time). I can still see Shylo's outline because of the light from the living room. She starts walking, very slowly, head held high, ears up and tail hanging loosely, closer to the cat. I'm guessing the cat made a move then because the next moment Shylo is sprinting towards it
Suddenly, there is this screeching hiss coming from the cat's direction. Even though our back yard is grass, I could actually hear my dog stopping dead in her tracks, turn around and run back from where she came. Stopping in the middle of the yard, she then turns around and stares at where the cat's eyes are still gleaming in the night and starts barking at it. Her tail is now tucked so far in between her legs, its touching her belly. Bark - bark, one step closer. Bark - bark, another 2 step closer. She does this till ± 2 meters (± 6 feet) from the cat. Another loud hissing screech from the cat brought Shylo, doing the butt tuck, almost all the way to the house were I'm now standing on the outside steps. I go to get her, but she is not having it and starts dancing just out of my reach, still staring and barking at the cat. I tell her, "fine have it your way" and go inside. She walks very slowly towards the middle of the yard again and then starts singing at the cat like I have never heard her sing before. Every time the cat makes a move , Shylo flee's back to the steps and then it start all over again. This goes on for about 10 - 15min before I finally manage too lure her inside with cookies.
After checking for scratch or bite marks (luckily there are non), she goes back to the door and begs too go out. I tell her "no way" and try too watch tv. For the next hour she drove me nuts! Running from window to window, door to door, through the whole house, whining like crazy the entire time. She finally lays down in front of the door and continues to sulk till we go to bed.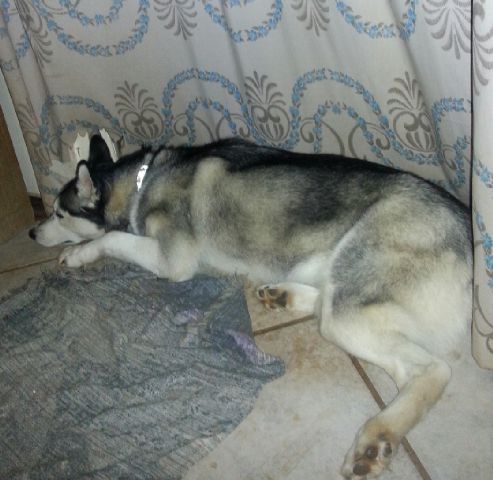 I took her out on her lead too go potty before bedtime because I knew there was no way I was getting her back in the house any other way. She was looking around for the cat our entire time out there, tail tucked as deep as it could go. When we got close to the spot where the cat was, I accidently stepped on a dry leaf. She flew around with such speed she almost yanked me off my feet. My dog seems to be a wimp
Lol
She is now laying on my bed, in her spot, with her head in the window just for in case the cat comes back.
Ps. The hole in the curtain was done by Shylo when she was about 6 months old. She didn't like the fact that we closed it so she couldn't see in the house when she refused to come inside