Hello!
Meet Heidi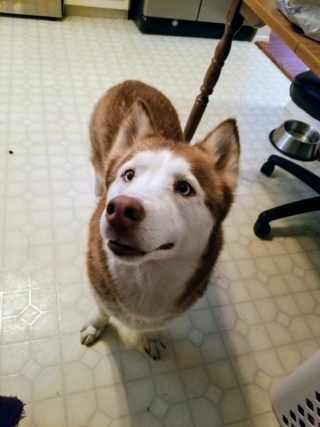 Hello! My name is Heidi and I am ready to be your teddy bear! I'm stubborn, goofy, and will make you smile-
Some things you should know about me are squeaker toys are my ultimate weakness, I love them all! I'm also a proud cuddler and prefer to be with my humans 24/7! You have work? What's that? Take me with you!
I get anxious from being alone for too long, so my foster mom recommends I stay cozy in a crate while you're not at home.
My seperation anxiety has improved while staying with my foster family, and after a few weeks my foster mom has reported I've slept soundly in my crate with little to no complaints--
but I may howl and cry at first until I'm adjusted to my new home and family.
I love children, and I have been known to be super wiggly and absolutely love to play.
But because I can be possessive with food and treats, I should go to a home with older children or someone who has experience with dogs, who can work with me and continue my training.
I'm ready for my furrever home and a family who's ready to accept me (and my endless fur)
Will you take me home today?
Located at Citizens for Animal Protection in the Katy/Houston area
-------------------------------
Heidi was my foster pup, she was brought in as a stray and unfortunately was found to have heartworms. I took her into my home and she stayed with me throughout her treatment (roughly 4 months). She is all better now, spayed and healthy! I returned her to the shelter just yesterday and I miss her already. I am open to answering any questions someone interested in adopting her may have, and I hope this forum will help find the perfect home for her!
She is housetrained, and cratetrained- But in the beginning she had a few accidents. But once she got my routine down, everything went smoothly. Her only vice is she can be possessive/aggressive with food & treats. Because of this, I'm hoping she finds a home with someone who is familiar with the stubbornness and the spunk of the breed, who can continue her training and really make her shine.
You are welcome to stop by the shelter to meet her in person! And, if you have any other dogs, you are also welcome to bring them by to meet her just to make sure they will get along.
Let me know if there are any other questions!
Thank you!