Uploading directly from computer onto Servimg.
We are going to show you how to upload images from your computer directly to the ServImg host that the forum uses.
First, go to the topic where you want to post your pictures.  That can be a new topic or a reply to the existing topic.
Go to the topic editor (aka the reply area) click on the little icon with the floppy disk (if you rest your cursor there will a tooltip will pop up showing "Host an Image") which will bring up the Servimg host.
You have a couple of different options here, you can drag 'n drop your files directly or you can select your files.
Another option you have is to resize your pictures.  The forum defaults to 800 pixels, however you can make them smaller or slightly bigger.  We recommend that you leave them at 800 pixels.  Making the pictures too big makes the forum scroll sideways - an inconvenience no one likes.
Click on "Select Files" and you'll be shown a list of files.  You may have to move to the directory (folder)that contains the files you're looking for.
Note that you may be shown a list of files as in the YouTube video or you may be given a gallery - that depends on you operating system and any file managers that may have been installed.
Once you've selected your files click on "Open" and they'll be inserted into the ServImg upload application.
You can click on the blue "Send All" to send all the files to ServImg at once or click on the blue upload arrow to the right of the image to upload them individually.  The orange buttons either remove all the pictures or the individual pictures.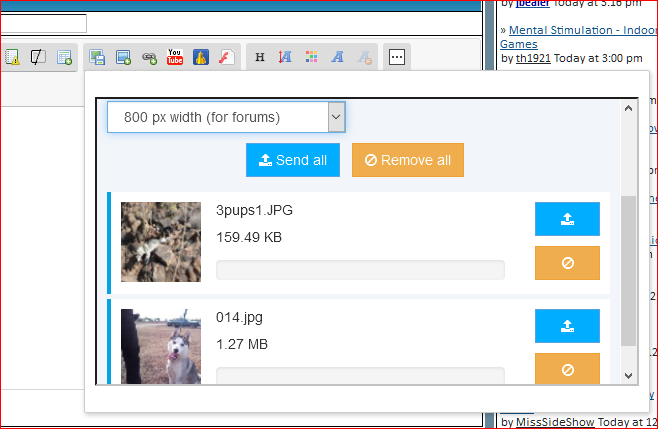 Uploading is normally quick and you're shown three links for each picture.  Most people will select "Insert All" which puts the links for all your pictures into the editor box
at the cursor location
.
Once you've done that, just go one editing your post.  As a courtesy to others, if you have no text between images, it's nice to insert a blank line betwen pictures - they just look better.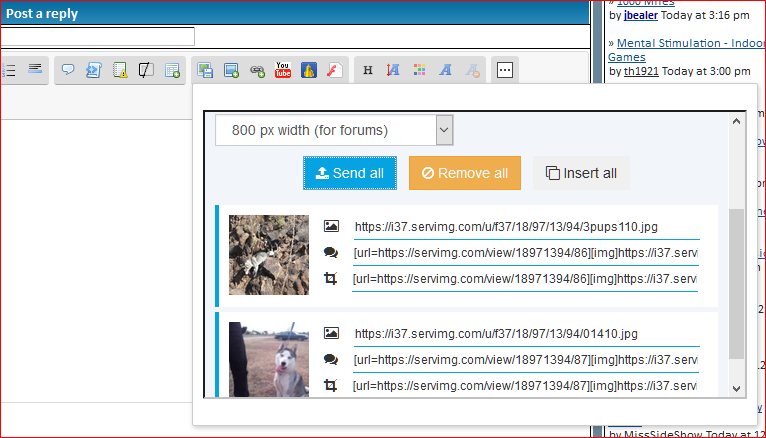 Another option for selecting pictures, when a file is hosted someplace else, the URL option (see the first picture).  Select URL, copy the image URL into that block and everything continues as if you had selected a file.  
Not all images can be uploaded to ServImg this way.  Images from FaceBook, for example, cannot be uploaded to ServImg this way, they'll show up as an invalid image.  See "Using an outside URL to paste into the forum" for an example of how to post FaceBook images.  
One issue that people have run into is that their images come up sideways.  There is no remedy for that as far as we know.  Clicking on the image will take you to the library on ServImg and there's no way to rotate the image as there are on other hosts.
Return to Index
(( 248927 ))