I was looking through everyone elses doggy scrapbooks, and decided it was time to finally make Kota one. I love sharing pictures of my sweet baby, so why know ya know.
Raising GSD my whole life, I knew plunging into the husky world would be quite a change! So I did my research, months upon months, before finally trying to find my own perfect fur baby. I started on Craigslist but had little to no luck, so then I decided to try looking for breeders. Living in Central North Carolina made it much easier since there are tons of Husky breeders in the area. Finally, after lots of visits and hours of searching I found a lady in Greenville, NC selling AKC huskies for 200$. I figured it was a complete scam but decided to check it out anyways.
I called the lady, and we ended up talking for a good hour if not longer. It seemed almost to good to be true. She told me about her female husky, Dixie. An about her male rescue husky, Chunk. I was curious as to why she was selling them for such a low price if they were ACK registered, so I asked her. She explained to me that she was no a breeder but that her female had gotten pregnant before they had a chance to get their rescue fixed and that she was just selling them for the cost they had put in them as long as they were going to good homes. She was very passionate about her dogs, and the pups as well wanting to know everything about myself and where the pup would be living.
We decided to meet the next day half way, because Greenville was about 2 hours from my house. She loaded up both the parents and the two puppies that she had left and met me at a dog park about an hour away. We had a great visit, so I got to interact with the parents and the pups both. I knew Kota was going to be mine from the second she handed her to me. Funny thing was, the pup I originally wanted was not that one I got. She just happened to hand me Kota first so she could get out of the car, and I was instantly in love with her. I wanted to take them both but I knew I wasnt ready for two puppies so after an hour or so talking and interacting with the pups and parents. I got all Kotas shot records, registration papers, paid the lady and took Kota home. While I was giving the lady my address to send me an addition shot record she forgot, Kota pee'd in the front seat of my brand new jeep. Course I could have cared less since like I said, I was in love from the very beginning.
Kota slept just about the entire way back to my house. It was hard to drive since I didnt wanna take my eyes off of her.
Finally we made it home, to my parents, where I was currently living. We also had a 100lbs GSD, who about about 11 at the time, so he was the first on I introduced him too. She love him, but he was definitely unsure of her. She then met our outside cats, who seemed to not mind Kota, even though they stayed clear of Saber (GSD). Everything about bring this girl home was seemed perfect. Finally my parents came home from work and got to meet Kota. They loved her, even dad who tried to pretend that he didnt.
I had been so excited about getting her that I had completely forgot to get her some puppy food. Well I asked mom, who didnt really show a lot of interest in her at first, if she cared to watch her or if she wanted me to put her in the crate. She agreed to watcher her while I ran to the store. Well by this time Kota had been attached to my hip, following me EVERYWHERE I went, so it was strange that she didnt come to greet me when I finally came home. I walked into the living room, and she was snuggled up in my moms lap letting her love on her. It was so cute!!!
Crate training was hard as I have posted in several treads. At the end of it, she is crate trained wonderfully but since day one has slept in my bed with me. Potty training wasnt hard exactly but was very time consuming. She caught on fast though, smart girl.
Well after about 2 weeks of living at home with my parents, my house in Southern Ohio was ready, and we were ready to move. Well keep in mind, up to this point my fiance had yet to meet her, as he was in Ohio working on the house. Finally, he came to NC so we could move the rest of my stuff and finally get to meet Kota. He, of course, loved her instantly too. The trip from NC to OH was not the most fun, and a 10 week old puppy and a cat did not make it much better. Kota rode with my fiance Matt in the uhaul, and my cat Nala rode in the jeep with me. But finally we made it and got settled into our new home where Kota has just absolutely thrived. She had a huge yard to run, and plenty of house to terrorize. Now she is a very happy, very smart 7 month old pup and my absolute pride and joy.
[b]Here's some photos of Kota up until now. Keep in mind I have a million more but picked some of my more favorite.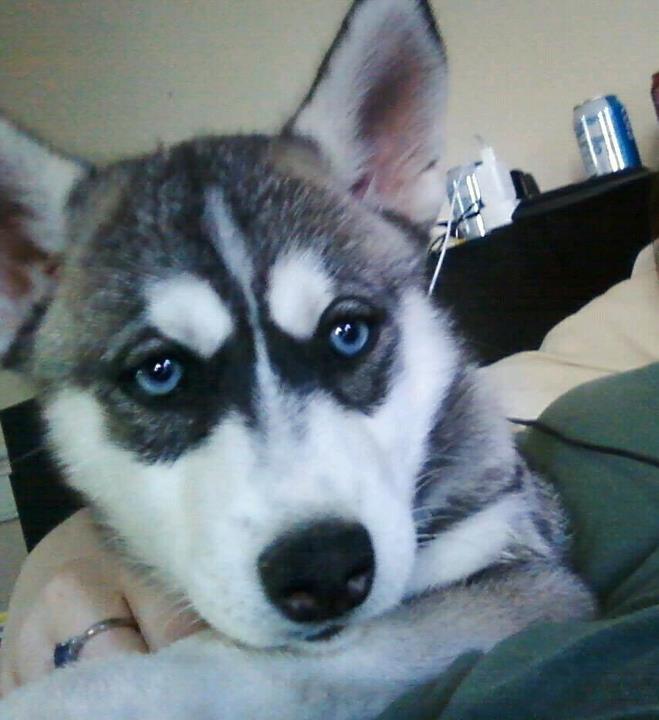 This is Kota the first night at her new home.
Kota && Saber her first day. Right after her first bath.
My sweet baby as a baby. I can't believe how small she was!
Kota && Matt on our way to Ohio.
Kota giving me some love.
Such a lazy butt, tired after a long evening at the dog park.
Keeping me company while Im sick.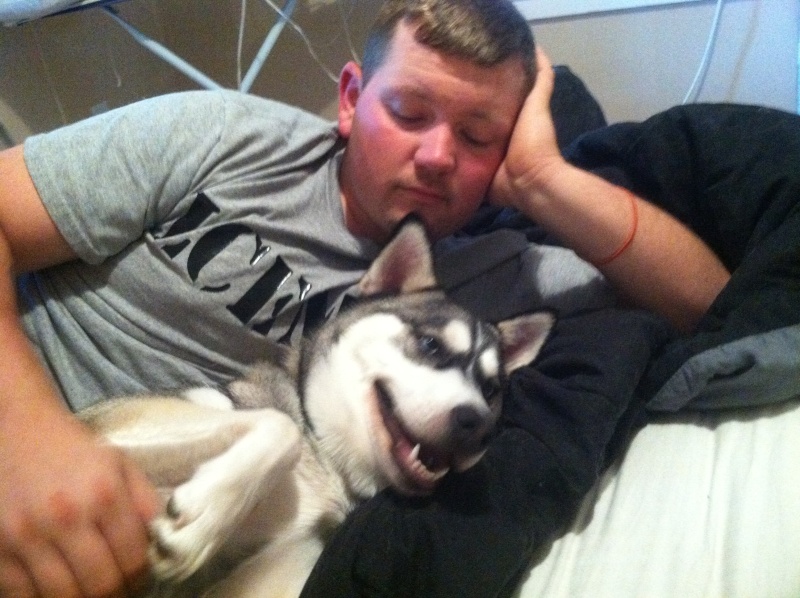 This morning, snuggling with Daddy after work.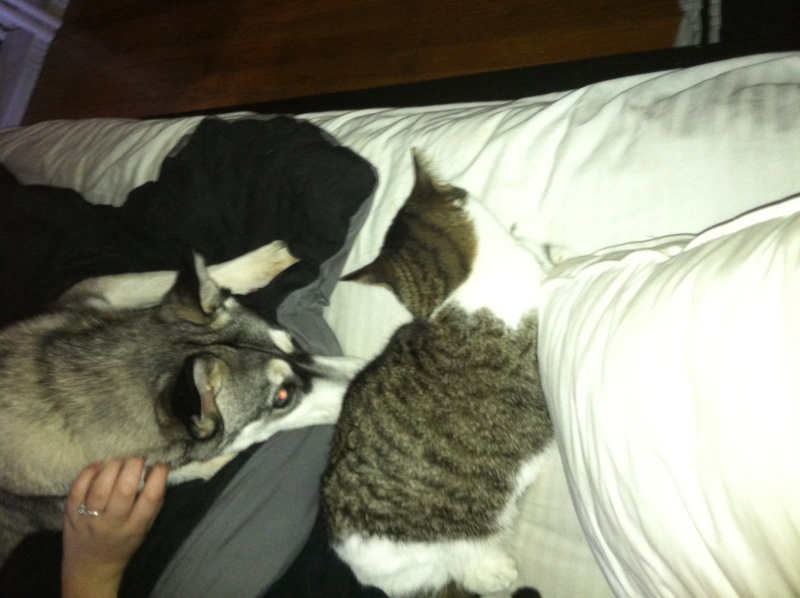 My favorite to date! Kota & Nala finally being friends!!!
Sorry that this post turned into a book almost! I just really get excited talking about her, because she has changed so many things in my life. I wouldn't trade her for anything in the whole word. Except tons of more pictures, because I have a whole other SD card full, that I may eventually get on here to post.